Thermal Industries
Our Commitment to You & the environment
Utilizing vinyl provides our customers products with sustainable life spans, keeping them out of landfills. Our lead-free PVC vinyl is not petroleum-based; its production requires no burning and generates no harmful gases.
When it comes to environmentally sensitive manufacturing, our vinyl production methods are among the most progressive in the industry. Also included in the company's efforts to make it more environmentally responsible are upgrades to the equipment used to produce glass in our door and window products. Just one example is our new glass oven which uses infrared heating elements that reduce energy consumption by 75 percent, resulting in added savings for the company and the consumer.
Education is Key In addition to taking steps to make the company's production processes and facilities more environmentally-friendly, Thermal Industries also educates company employees about its efforts. As a result, employees are more informed of the company's green practices and take pride in knowing they're contributing to the process. Energy-responsible products and employees green awareness are everyday practices at Thermal Industries.
Thermal's Commitment to Green Energy responsible products, processes and facilities For almost 50 years, Thermal Industries roots have been designing and manufacturing energy conserving window and patio door products. Our philosophy is simple: provide our customers with energy-efficient, maintenance-free products that help to lower their energy bills. From our environmentally sensitive manufacturing processes to our recycled content, our goal is to produce high-performance products that meet or exceed current energy-efficiency standards. The result? You get exactly what you need in your windows and so does the environment.
Green from start to finish Our vinyl manufacturing processes blend environmental sensitivity with high-quality finished products. We recycle our vinyl, glass and aluminum scrap, often selling it to companies outside our industry, such as PVC pipe manufacturers and post-industrial recyclers.
TREX
Where Outdoor Living and Environmental Leadership Coincide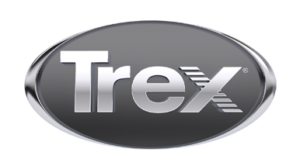 Trex is a proud member of the U.S. Green Building Council, which is the nation's foremost coalition of leaders from every sector of the building industry. Leadership in Energy and Environmental Design (LEED) is a third party certification program and the nationally accepted benchmark for the design, construction and operation of high performance green buildings. Developed by the U.S. Green Building Council in 2000 through a consensus based process, LEED serves as a tool for building of all types and sizes.
The certification offers third party validation of a project's green features and verifies that the building is operating exactly the way it was designed to. To date, there is over 3 million square feet of construction space involved with the LEED system. LEED is a point-based system where projects earn points for satisfying specific green building criteria. Within each of the six LEED credit categories, projects must satisfy particular prerequisites and earn points. The six categories include Sustainable Sites, Water Efficiency, Energy & Atmosphere, Materials & Resources, Indoor Environmental Quality and Innovation in Design (projects can earn ID points for green building innovations). The number of points the project earns determines the level of LEED Certification the project receives and certification is available in four progressive levels: Certified, Silver, Gold and Platinum. LEED applies to green building projects, not individual products. Individual products can contribute to points under the rating system as LEED criteria are performance-based. In attempting to meet these requirements, LEED practitioners identify products that have desired attributes. However, some LEED criteria do require specific product data as part of a successful submittal. This is where we at Trex come in. Since our founding 16 years ago, going green has been more than just a trendy catchphrase for us – it's been a way of life.
Our company was built upon green principles and values, and we feel it's our duty to help solve today's environmental challenges. Rest assured that no trees are cut down to make Trex decking, railing, fencing or trim. In fact, most of our products are made primarily from recycled plastic grocery bags and reclaimed wood, allowing us to keep some 300,000 tons of waste out of landfills every year. That comes to about 600,000,000 pounds saved year to date. Trex is the largest plastic bag recycler in the world.
Our reclaimed and recycled plastics come from:
Grocery bags 7 out of every 10 recycled grocery bags in the U.S. end up at Trex. That's about 1.5 billion per year!
Commercial stretch film  – Trex is the country's leading consumer of reclaimed stretch film
Agricultural Plastics – this includes mulch bags and greenhouse film
Curbside recyclables.
Our green awareness doesn't just apply to our final products. We've incorporated this philosophy into our everyday processes as well. Our manufacturing process is built around: trailers that are hydraulically powered with vegetable-based oil; proprietary processing methods which eliminate smokestacks; and our factory runoff and refuse is recycled back into the manufacturing line.
As you can see Trex products and LEED certified projects blend environmental, economic and occupant-oriented performance. In the end, both cost less to operate and maintain; are healthier and safer for occupants; and are a physical demonstration of the core values of the organizations that own and produce them. For more information, visit usgbc.org and trex.com.