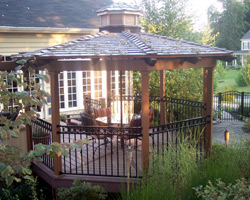 Since our founding in 1989, American Deck, Inc. has been committed to sustainable environmental building practices. We have always concerned ourselves with ways to minimize environmental impact through our business and building practices. This consciousness has affected company vehicles purchases as well as details such as deck framing methods.
For example, how can we strengthen a project's structure while reducing the number of pier footings and thus concrete placed in the ground? This question is always posed with projects on or near waterways.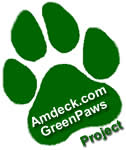 A significant impact that an environmentally conscious contractor wields is the selection of materials to use for its projects. This awareness has very real "green" benefit for our American Deck clientele. Over 70% of our projects use composite decking products. And most of these manufacturers use a high content of recycled materials. The majority of our decking projects use Pressure Treated Pine as the primary framing lumber to which the industry has voluntarily worked with the Environmental Protection Agency to produce less harmful chemicals as well less seepage into the ground. Additionally, the re-forestation efforts of the lumber industry are well managed and can outpace lumber usage in regard to Southern Yellow Pine. In addition to Pine and composite products, ADI promotes the use of naturally resistant lumber species (managed forestation) such as Cedar and Redwood while educating our clientele to the negative impact of tropical hardwood decking (best known as ipé or 'eepay', which is indisputably old growth rainforest, even though it is often packaged otherwise).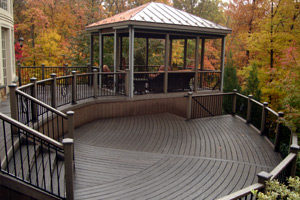 Yet another growing area of concern is onsite water management and its environmental impact. Fortunately, ADI has proactively pushed this product category and its benefits to our clients. Products such as RainEscape, DrySpace Drainage System, DEK Drain and DrySnap are several products we utilize to capture water runoff diverted into the onsite gutter and drainage system. Complimenting the green benefit of minimizing thousands of gallons of runoff into our systems, our clients enjoy doubling the space under their deck projects for patios, storage, hot tubs, etc.
We look forward to working with you on your project. We can help consult with you on the best way to maximize the use of your outdoor living space and doing so with a positive environmental conscious.